FITNESS RUSH PROFESSIONAL TRAINING SERVICES
We recognise that in order to achieve personal goals, our clients need tailored programming to maximise their results.
At Fitness Rush Personal Training, you will benefit from dedicated one-to-one sessions, creating a unique understanding with your trainer which will allow you to focus on the main goal – your health and well-being.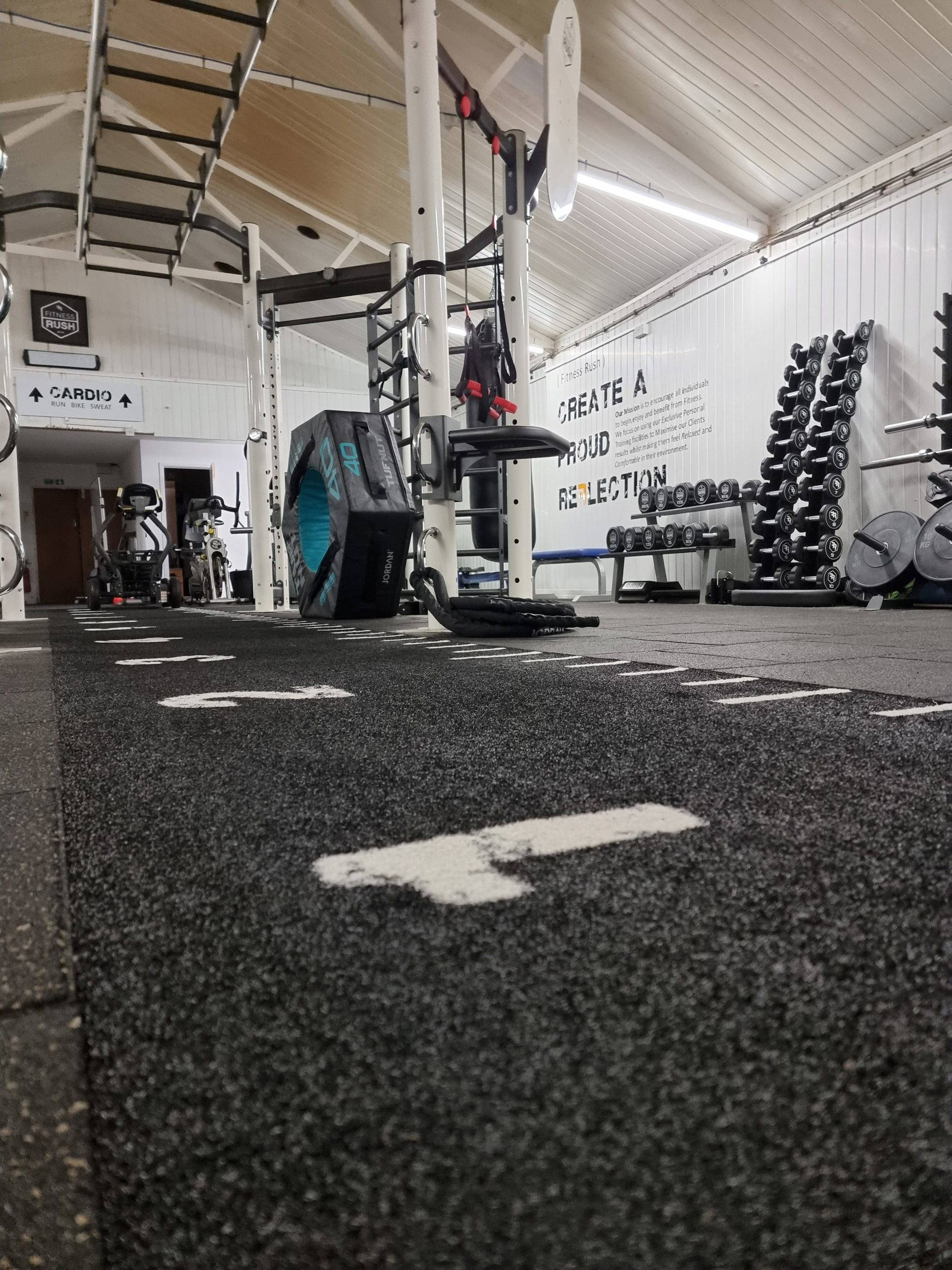 Here at Fitness Rush, you will receive more than just a workout – it's a lifestyle change. If you choose one of our personal training options, you will enjoy tailored sessions in an exclusive one-to-one setting, which will not only suit your needs but maximise your results through carefully created programming and extensive information on how to continue your journey away from the gym with our customised nutritional and lifestyle advice.
Let the personal trainers do the thinking for you, so relax and know you're working towards your goals with the correct knowledge driving you forward.
There is plenty of experience and know-how towards dealing with long-standing injuries and subsequent rehabilitation, so you can be safe in knowing your wellbeing is at the forefront of our minds when training you.
We also understand that not everyone wants to train alone, so feel free to pair up with a friendly face or join in with one of our group training sessions, where you can train alongside like-minded individuals to reach your goals together with extra encouragement and motivation.
Benefits from Personal Training with Fitness Rush
1. Improve your overall health and well-being.
Surveys over the years show the number one reason why people hire personal trainers is to get professional guidance to improve well-being, fitness, strength, flexibility, endurance, posture, balance and coordination. A personal trainer can monitor your progress and will then tailor your program throughout, to help break through plateaus.
2. Reach or maintain a healthy weight.
A reduction in body-fat, healthy weight management, body shaping, and muscle definition are all focal points of a personal trainer, who are trained to help set realistic goals, determine safe strategies and provide the encouragement you need to succeed.
3. Stick with it.
One of the biggest challenges during the first phase of training is sticking to a new plan which can seem daunting initially. Qualified personal trainers provide the motivation to develop a lifestyle which focuses mainly on health and fitness. They can also help create strategies to overcome the biggest obstacles towards exercise.
4. Everyone is different.
Further surveys show that 50% of personal training clients have special medical needs, such as arthritis, diabetes or obesity. A well-qualified personal trainer is specially trained to help with these or other issues, including low-back pain, rehabilitation from injury and pre/postnatal exercise. Your personal trainer can work with doctors, physical therapists or other health care providers to plan a safe, efficient program that will speed up recovery and enable you to reach your fitness goals.
5. Do it right.
Correct form and technique is of great importance when it comes exercising, so by learning the correct way to use equipment, you reduce the risk of injury and will see increased benefits towards muscle growth and target goals.
6. Save precious time.
Surveys over the years show the number one reason why people hire personal trainers is to get professional guidance to improve well-being, fitness, strength, flexibility, endurance, posture, balance and coordination. A personal trainer can monitor your progress and will then tailor your program throughout, to help break through plateaus.
7. Enhance your sport.
If you're looking to improve strengths which will benefit your chosen sport. A personal trainer can design sport specific programs to focus on developing and conditioning the body to increase your overall performance.
8. Keep motivated.
Motivation can be difficult to maintain when you train alone. Continued sessions with a personal trainer can enhance motivation to continue with a workout programme. By starting the journey with a trainer and knowing they are tracking your progress should motivate you during your workouts as you get the satisfaction of showing your trainer the improvements you've made over the duration of your programme.
9. You're not alone.
Entering a gym can be daunting initially, so sharing the experience with a friend can work well. Not only to provide support but for continued motivation and prolong the training journey. Your trainer can set exercises to show your competitive side as you pit yourself against your training partner which can add to the training intensity and improve the overall outcome of your sessions.
10. Team work makes the dream work.
Finding the right personal trainer who listens and understands your goals is crucial, so you can work together to find the correct exercise program that will maximize your success. Remember, you are in control. If something isn't working for you, a good personal trainer will make the necessary changes to make sure you are comfortable and happy with the mutually agreed plans.
 Group Training 
Training with others can significantly increase your chances of surpassing your fitness goals. By challenging and encouraging each other to strive for success, you will be pushed harder to achieve your fitness goals in no time. It is human nature to want to win, so whether you are trying to do more reps or just become the best you, training alongside like-minded individuals will certainly help you want better results.
As we reach each goal, we create new ones, so whether you lift a slightly heavier weight than usual or run a little faster than before, working out with others gives you plenty of opportunities to always want to do better. This will definitely help you achieve your goals more effectively and efficiently.
Our newly designed functional group training area has been created with you in mind. Our professional trainers have hand-picked the best equipment available to ensure you are trained at the very highest standard and are in a safe environment.
Small Group Sessions (up to 4 people)
Our small group option is great for those who want the personal training experience at a fraction of the cost. Let your professional trainer guide you and 4 others towards your goals and beyond. You may share a trainer but the results will be all yours! 
Not only will you gain results but you can expect to learn more about yourself, both physically and mentally through our well-balanced programming and watchful eye of your professional trainer. Each session is carefully planned to increase your potential of success.
You might be joined by 4 other's but your time and well-being is still of maximum importance to us all here at Fitness Rush which is shown though our care and attention to every detail, making each session as special and memorable as the last.
Our well trained Professional's understand your needs and through experience know how to dedicate time to small groups to ensure no-one is being left behind or feel confused by any exercise. Think of it as Personal Training alongside a group of friends.
The Fitness Classes will include early morning and evening classes, as well as Saturdays to suit the early risers and those returning from work looking to relieve their frustrations of the day or week.
Make a great start or enjoyable finish to your day and feel accomplished with Fitness Rush's Full Body exercise class. Whether you are looking to tone up, burn fat or just become fitter, we guarantee you will do it with a smile on your face. Come and mix with likeminded people in an intense but fun atmosphere. Raise your heart rate with short bursts of intense exercise followed by short rest periods, lower your body-fat with the aftereffects of increased metabolism and maintain your happy self with the results.  These short intervals of exertion raise metabolism and creates an oxygen deficit, which forces your body to use more calories – this is the after-burn effect. 
With the time restrictions and busy lifestyles we all lead these days, our 45 minute classes are ideal for those limited on time but want to maximise their results. Let our well-qualified trainers take you through carefully planned exercises in our state of the art training facility to work the whole body and raise your metabolism to help you shed the unwanted fat. This will provide fat burning for hours after the class and help define those all-important muscles.
View our Price Lists
Take a look at our competitive pricing plans…